Reviews
[…] their sound is totally retro – yet completely in the here and now, another case where the old is new again.
Delarue, NEW YORK MUSIC DAILY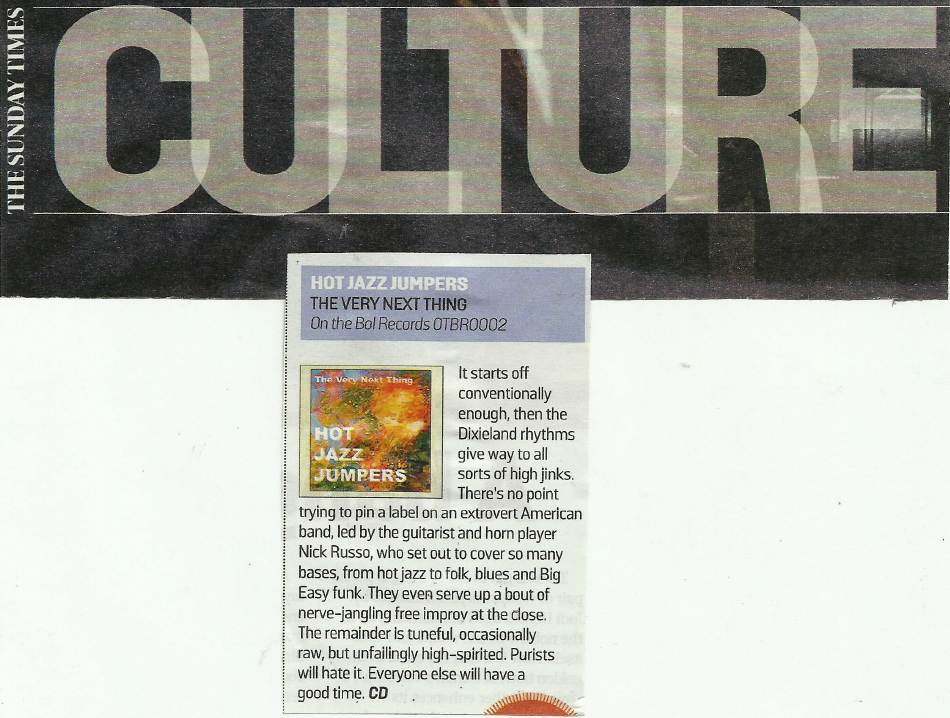 The  HOT JAZZ JUMPERS have also put out music with an accompanying DVD on THE VERY NEXT THING [On The Bol Records otbr 0002]. The HJJ seems to be the brain child of NICK RUSSO [gtr/banjo/bari resonater] and BETINA HERSHEY [voc/gtr] together with a cast of characters, that includes at its core, Miles Griffith [voice/scat] and David Pleasant [drm/voice/harm], plus a handful with 7 other music makers. If not the very next thing, it is certainly a party in a CD.
The best way I can describe this set, of 17 mostly familiar compositions [76:00], is to compare it to a hootenanny involving blues, swing, traditional jazz, folk and Gullah Geechee Rhythms.
Their interpretation of tunes like "Back Home Again In Indiana", "Caravan", "In A Mellow Tone", Jock-A-Mo, "Manhã de Carnaval", "I've Got My Mojo Working", "This Little Light Of Mine", etcetera is highly original and infectiously fun. Special mention must be made for trumpeter Gordon Au—his playing on 3 tracks, is moving and well placed in this setting. The final track on the CD is a free improv between Russo and Griffith and is the most somber of the set. In his notes Russo says his first goal was "…to have fun". It certainly sounds like a goal accomplished. The accompanying DVD is both fun and insightful and includes testimonials from other musicians plus music not on the CD.
This release would guarantee a smile and foot tap from the grouchiest person. You can take music seriously but it doesn't always have to be played seriously; new and welcomed approach to old music. Put more simply by Hershey "good vibes", indeed.
Cadence Magazine
New York Music Daily Review
The Hot Jazz Jumpers Revisit and Reinvent the Wildly Syncretic Spirit of the 1920s…
Gapplegate Guitar and Bass Blog
The musicianship is very high, the songs good to hear this way, the singing tops and, yes, this really is a fun band!!
CD Hot List New Releases For Libraries
What the Hot Jazz Jumpers offer is a gleefully untraditional take on the hot jazz tradition…
The Jumpers pull Duke Ellington's "Caravan" into '60s avant-garde territory and infuse "You Are My Sunshine" with scat and memories of African syncopation. Everything is performed with evident joy.
If you prefer your jazz safe, timid, predictable; if you like it to be categorizable, neatly cut into half-inch dice, please read no farther.
Dirty 40 slowly builds from stark delta blues to a Stonesy ba-bump Beggars Banquet groove. Fueled by the banjos and Hershey's sassy delivery, Sweet Georgia Brown…
Still, this is a revival band worth looking out for and their energy reminded me of The Manhattan Transfer…
… this bunch of pros has no problem with mixing Libby Cotton with Luis Bonfa with spirituals and calling it all hot jazz.
"their range of repertoire is delightful broad, brave, and the results are compelling".
Να διασκεδάζει τον κόσμο, αλλά με τον δικό της τρόπο. To αν θ' αποδειχθεί και το… the very next thing μένει να το δούμε…
Traditionals, Standards, Blues- und Jazzklassiker sowie neue Songs der Hot Jazz Jumpers, die genauso klingen, als seien sie bereits weit über 80 Jahre alt, sind hier zu hören.
Swing Dance Party On The Vintage Subway Train…
The versatile guitarist-banjoist and his group play everything from 1920s and '30s jazz to ragtime, delta blues, Tin Pan Alley…